April 29 2020
There has been a big push in recent years to move away from hair care products that contain parabens. At Just 4 Girls Salon, we care about our clients' health and well-being, and believe it is important to share information about this subject with you! Continue reading to learn more about what parabens are, what they do, and potential issues they can cause.
Where are Parabens Found?
Since the 1950s, parabens have been used in a wide variety of products because they are an inexpensive preservative. They work as a preservative because they are anti-fungal and anti-microbial, giving products longer shelf life. Parabens can often be found in shampoos, cosmetics, and even toothpaste.
Why Switch to Paraben-Free?
A few years ago, researchers found paraben in breast cancer cells. While there has not been conclusive evidence that parabens have a hand in causing cancer yet, it is alarming to find them in cancer cells. Because parabens attach themselves to and copy estrogen hormones, there is other research regarding their link to other issues such as infertility in both men and women. Again, the evidence so far is not conclusive but because we care about our clients, we would definitely rather be safe than sorry!
While parabens have a very low potential for allergic reactions, they do have some potentially negative effects on hair and scalp health. Parabens help remove oil and bacteria from the hair and scalp but can also remove too much oil, leaving the hair brittle and the scalp dry.
When using hair care products containing parabens, what doesn't get washed down the drain can be absorbed through the scalp. Researchers are now finding that parabens that do make it down the drain are accumulating in large amounts in the water system. If a conclusive link is found between parabens and health problems, having parabens in the water system can make exposure even higher, unfortunately.
Are there Paraben-Free Alternatives?
Yes! Thankfully, many hair care and cosmetic companies are moving away from using paraben preservatives toward a more natural solution! Rosemary, lemon, citric acid, and other natural extracts have been found to be effective, safer alternatives.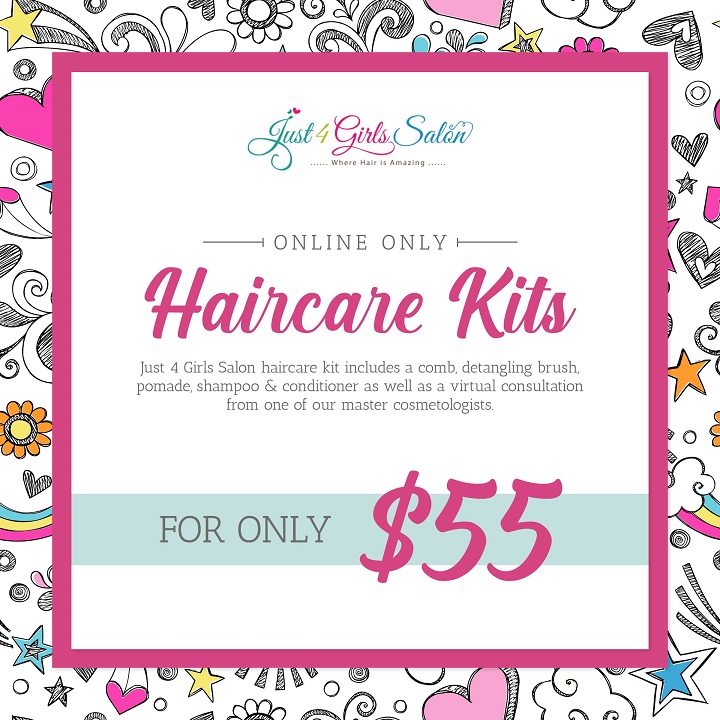 At Just 4 Girls, we wanted to keep our products as natural as possible while still creating a great product, that is why you will find many of these natural preservatives in our Bubbly Beautiful line of haircare products! 
We also offer a great Bubbly Beautiful Hair Care Kit! It includes a comb, detangling brush, pomade, shampoo & conditioner as well as a virtual consultation from one of our master cosmetologists. Until we open, we want to make sure you can do this at home!! We have your covered. 
Ready to try effective, paraben-free hair care products? Visit our website to shop and right now receive free shipping on orders over $50! Need an appointment for your daughter? Our professional staff at Just 4 Girls Salon is here to help! Call or visit one of our three convenient locations today at 568 Fayetteville Rd SE in Atlanta (678) 927-0554; 5245 Langford Park Dr. STE C in Norcross (470) 433-0090; or 1295 W Spring St STE 101 (inside Smyrna Market Village) (678) 391-4622 or book for any location online!