October 15 2021
So you want to grow your child's natural hair long? It can be done but it takes patience and consistency… did I say patience? Hair is always growing and the average amount of hair growth is about ½ inch a month – that's 6 inches a year! Here are some tips and recommendations to grow their hair while keeping it healthy. When hair is healthy, it grows better and faster. 
Moisturize often. Adding moisture in between washings are important to the health of your child's hair. At Just 4 Girls, we can let you know how dry your child's hair is and how often we suggest you moisturize it. However, depending on the dryness, moisturizing it once per day or 3 to 4 times a week can be fine. 
Our Be Strong Leave-In Conditioner Spray can be used as often as you need. If you find you need something a little thinner to use daily, you can use 2 tablespoons of this spray, add in 1 tablespoon of oil with 1 cup of filtered water for an all-over moisturizing spray when needed. If their hair gets dried out, it will be more prone to breakage. 
Wash with a gentle shampoo. Our Be Strong Shampoo is a botanically-rich moisturizing shampoo infused with moisture for little scalps. It adds strength and resilience to your child's hair. 
There's a myth out there that dirty hair grows quicker. However, we find that a clean scalp allows the hair to grow better. When the scalp is dirty, there's a buildup of dirt, sweat, and excess oils that can clog the hair follicles, slowing the growth and resulting in dandruff. 
Consistency is key. If you're truly dedicated to growing out their hair, you need to stick with a regimen. Many parents leave the time-consuming work to the weekends. Here's a sample regimen:
** Sunday: shampoo, condition, deep condition, LOC method, protective style
** Monday: moisturize
** Tuesday: moisturize
** Wednesday: moisturize
** Thursday: co-wash, moisturize
** Friday: moisturize
** Saturday: moisturize
Depending on your schedule what's best for your child, you can play around with this schedule and find what works best for you and your family. 
Not taking the time to be consistent and giving your child's hair the proper TLC it needs is the main reason why the hair doesn't grow as quickly as it can. Set alarms to remind you when it's time to moisturize or deep condition. The more you do something, the quicker it becomes a habit so stay consistent!
Avoid tight hairstyles. Buns, puffs, and braids are super cute but if you're trying to grow out your little one's hair, they are too tight and can pull out your child's hair and cause breakage. Use scrunchies with no metal parts and if you use little rubber bands, consider cutting them out instead of pulling them out. 
Choose protective hairstyles with little manipulation. The more you comb, manipulate, and pull on your child's hair, the more prone it is to breakage. Keeping styling to once a week will cause less stress on the hair and will give it more time to grow without interference. 
Trim when needed. Yes, you're trying to let their hair grow out but trimming the hair of its split ends will help to retain the length. If you ignore split or dead ends, they'll continue to break which causes damage to the hair shaft. 
Protect hair at night. No regimen is complete without nightly protection. Satin pillowcases and covering their hair with a bonnet or scarf are smart ways to protect their hair from rubbing and breaking while they sleep.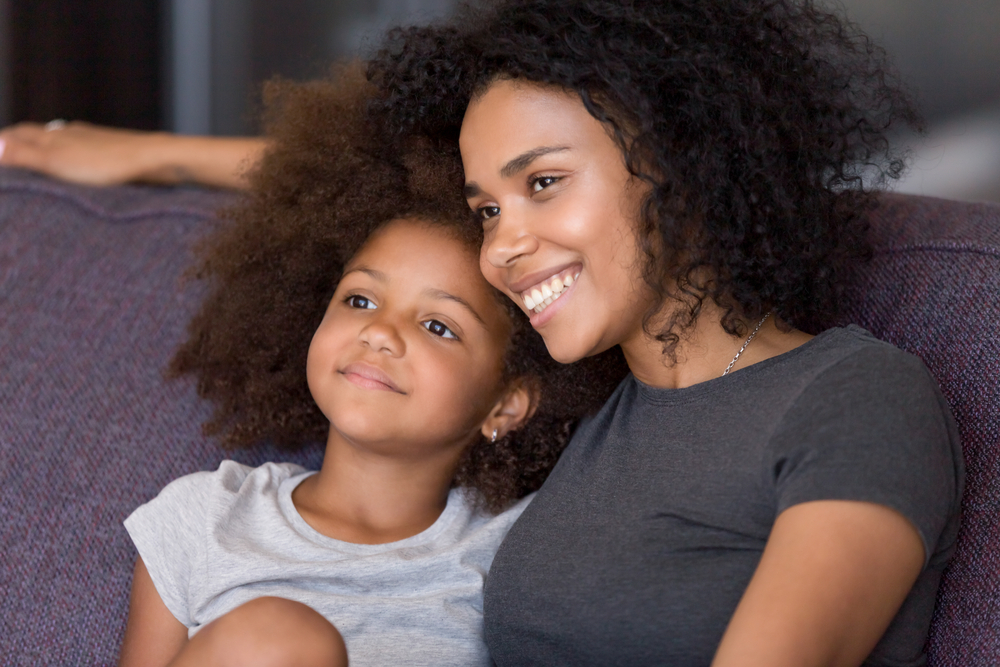 Be patient and keep calm. Growth doesn't happen overnight so be ready to be patient. You'll have to be the reassuring adult when your child is asking when their hair is going to be the length they want. Let them know all this time spent is worth it in the end.
If you don't feel their hair is healthy or growing fast enough, make an appointment with us to let our stylists assess your child's hair. Taking care of our natural-haired kiddos can be a challenge. Just 4 Girls Salon is here to help and we look forward to working with you and your child! Call or visit one of our two convenient locations today at 568 Fayetteville Rd SE in Atlanta (678) 927-0554 or 1295 W Spring St STE 101 (inside Smyrna Market Village) (678) 391-4622 or book for any location online!