November 30 2020
With the holidays coming up quick, you may be looking for a hairstyle for your girl that will last and is easily maintained. At Just 4 Girls, we offer a full menu of services including braids, twists, locs, added-hair, press & curls, and much more!
We've put together some festive hairstyles that can last the entire holiday season with little to no maintenance. To get in the mood of the festive season, we've also listed some family-friendly activities to bring some holiday cheer.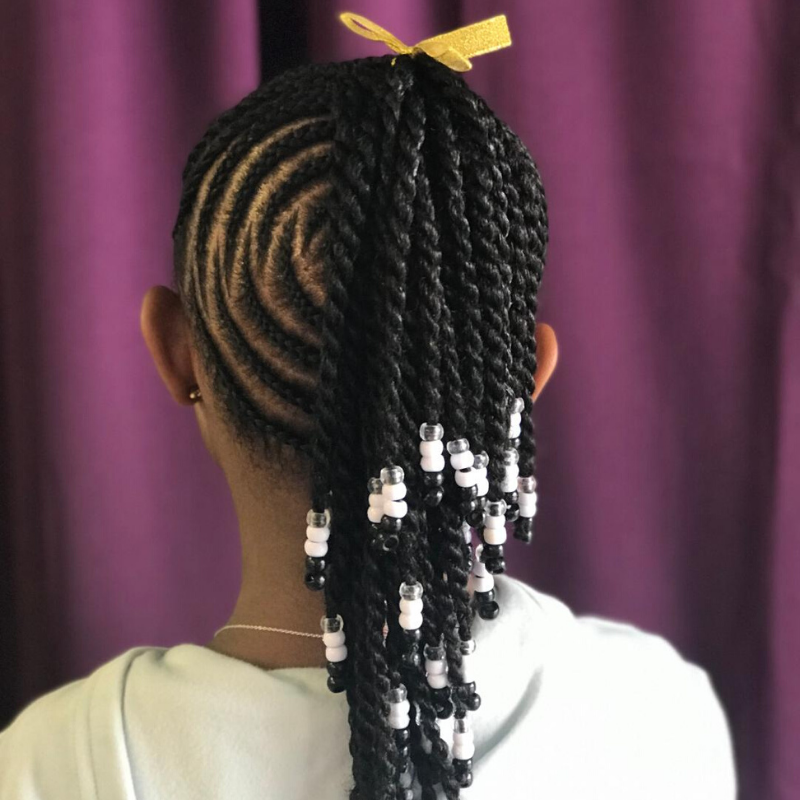 Braided Ponytail
For those with long hair, or wanting to have some fun with added hair, a braided ponytail can be a great look for the holiday season. There are a lot of options to really add some holiday cheer with bling, temporary hair color, ribbons, and bows. Place the pony high up on the crown and have some fun with some alternatives for each of your fun events!
Protective Box Braids
By intertwining festive colored string or hair jewelry, you can make these box braids all your own. Once braided, it's a low maintenance look that only needs the scalp oiled regularly to promote healthy hair growth. These box braids are great because they work on all hair types, all face shapes, and the braiding really helps lock the hair in place to help the style last longer. Although this hairstyle works year-round, add festive-colored ribbon and holiday-themed hair jewelry to give your child a hairstyle that will look great for holiday events, family dinners, and even for pictures with Santa! This look can easily last for up to three to four weeks.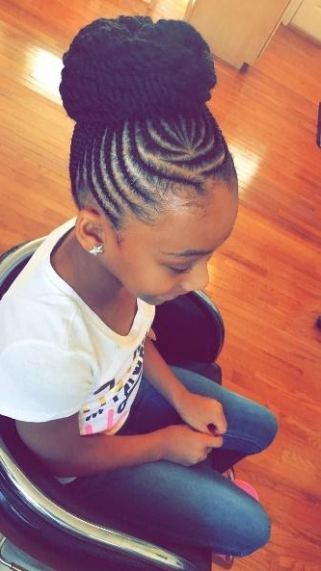 Fancy Braid Updo
Whether your child has long hair or you want to add some extensions, twisted braids in a bun in the perfect traditional look for the season. You can also decide to use twists instead of braids for this look. There are so many options between updo's and half-do's, where the bun sits on your child's head, so no two styles will look the same! 
Braid & Twist Half-Updo
This is the perfect style not only for dressing it up for the holidays, but it's also a great protective style that saves time from having to do your child's hair each morning. Wearing a satin bonnet as night will protect this style and help it last up to two weeks. Whether your daughter already has dense curly or coily natural hair, or you want your favorite Just 4 Girls stylist to add twists and braids, you can accessorize this look with a ribbon, a bow, or bling. 
Ready for some holiday fun? Even with social distancing and remaining safe, Atlanta has many things to do with your little ones this holiday season. From festive shows to fun activities to Santa appearances, there's something for every age. 
Stone Mountain Christmas has become a family tradition for many, and this year is no exception. With holiday music, amazing lights, and enchanting shows, you can show your little ones the magic of the holidays in one fun-filled event. This season they've even added an all-new Christmas Laser Show for you to enjoy. Not only can you see Santa as he flies overhead, but your little ones will be amazed by the Snow Angel's Christmas Parade. Enjoy the night by sharing in Angelina the Snow Angel and her magical flight to create on last magical snowfall. This event runs from November 14 through January 3rd and needs reservations. 
Looking for a little more fast-paced fun? License to Chill Snow Island offers one of the fastest snow tubing hills in North America! You can play in the snow, enjoy a good old-fashioned snowball fight with your friends, enjoy winter-themed carnival rides, share the fun of ice skating with your kids, and much, much more! This year you can take a magical walk through an amazing light extravaganza with holiday-themed displays, music, and light tunnels at the all-new Lakeside Lights Spectacular.
If you prefer to celebrate this holiday with more social distancing, you don't have to miss out on the fun and lights! Candy Rush at Six Flags White Water has you covered! You can see a gigantic gingerbread village, sugar plum fairies, and an assortment for Christmas characters along a mile-long drive from the safety of your vehicle. With nearly two million lights, this won't disappoint! It runs through January 3rd. 
If you are just looking for somewhere to pick your own Christmas tree, visit with Santa, enjoy a petting zoo, and watch the wonder in your little one's eyes on a train ride, visit Berry's Tree Farm for an easy day of fun. 
Ready for an appointment for your girl to enjoy holiday hair before Santa pictures or that family event? Our professional staff at Just 4 Girls Salon is here to help and we look forward to working with you and your child! Call or visit one of our three convenient locations today at 568 Fayetteville Rd SE in Atlanta (678) 927-0554; 5245 Langford Park Dr. STE C in Norcross (470) 433-0090; or 1295 W Spring St STE 101 (inside Smyrna Market Village) (678) 391-4622 or book for any location online!