November 30 2019
The holiday season is a busy time of year, especially for parents! Holiday programs, meet-and-greets with Santa, and parties with friends and family make this season heartwarming but hectic. During all these events we are making memories with our children and often take as many photos as we can to remember them for a long time to come. It is always great for our girls to be photo-ready and that includes having the perfect holiday hairstyle, read on to discover some of this year's trends!
Curly
Braids, top-bun, curls: This half-updo shows off your child's natural curls and incorporates smaller braids on the top of the hair leading into a top bun. This style is fun yet stylish, perfect for more formal holiday events.
Curl rod set: These loose, wide curls are perfect for any age. This style will have your child looking and feeling glamorous at any event this season!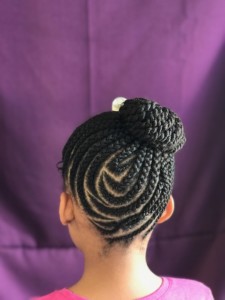 Braided
Braided low bun: Wide braids meet at the nape of the neck and form a stylish low bun to create a sleek, elegant look. Elevate this look even more by adding flower accessories to the bun that match all your child's holiday outfits!
Box braids: Box braids can be easily accessorized to match any holiday outfit. Hair accessories added to box braids allow your child to show off her individual style, whether they choose gold, silver, or even traditional red and green, they will look great all season long!
Straight
Texture blowout: This style keeps some of the natural kinks and curls, leaving hair lengthened and full of body! Textured blowouts are sleek and elegant, but it is always important to protect the hair before heat styling to avoid unnecessary damage.
Whether your child is wanting a curly, braided, or straightened look this holiday season, our staff at Just 4 Girls Salon can help! From the products we use to the services, we provide our goal is to nurture your child's natural hair, leaving it healthy and strong!
Is your child wanting a special look for the holiday season? Our professional staff at Just 4 Girls Salon is here to help and we look forward to working with you and your child! Call or visit one of our three convenient locations today at 568 Fayetteville Rd SE in Atlanta (678) 927-0554; 5245 Langford Park Dr. STE C in Norcross (470) 433-0090; or 1295 W Spring St STE 101 (inside Smyrna Market Village) (678) 391-4622 or book for any location online!